Long gone are the days when drone technology was limited to military and hobbyist applications. In fact, commercial drones and drone data are making a significant impact on efficiency and effectiveness across a wide range of industries. Fortunately, these financial benefits also go hand-in-hand with an improvement in safety by keeping people on the ground and out of harm's way.


Inspections
Drones can carry out inspections on large work sites much faster than traditional inspection methods. In fact, one study found that using a drone to monitor safety hazards was more accurate, and could make up to 100 times more observations than a worker on the ground.
Using drones instead of workers is also fundamentally safer in a range of situations. In many cases, a drone can completely avoid the need for people to work from heights, in confined spaces, or within proximity to dangerous machinery, contamination and other hazards on site.


Surveys and Mapping
Drones have also allowed high-quality 3D mapping data to become much more accessible. This enables better management, faster and more informed decision making, and provides an accurate high-resolution archival record of every inch of your site.


Better Safety Data
The data being gathered initially for business-driven efficiency improvements is now being recognised as valuable to safety and compliance teams, who can now conduct Virtual Site Visits to assess various issues, take measurements and write their reports all without leaving the office.
Where appropriate, the use of virtual rather than physical site visits also greatly reduces the highest statistical risks to many organisations: vehicle accidents and on-site injury from slips, trips, bites and falls.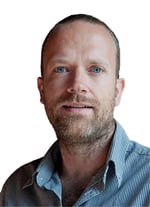 Learn more about using drones to improve operational efficiency in your organisation.
Australian UAV Director Andrew Chapman will be presenting at the Safety Forum in Sydney this September.
Andrew will be discussing how forward-thinking businesses are utilising emerging drone technologies to boost operational efficiency and improve workplace safety.
Learn more and register at the Safety Forum Website.